Glass Antenna Simulation Toolchain with Special Numerical Methods
Complex glass antenna structures could not be simulated satisfactory with standard numerical methods in the past. EMCoS has developed the first accurate and fast approach based on hybridization of MoM solution for 3D objects and a Green function approach for metallic stripes, printed on a dielectric substrate. With this revolutionary method glass antennas can now be easily designed and optimized to reach best reception performance. With support of the numerous EMC features of EMC Studio, emission problems can now be detected more reliable. A full toolchain is provided in EMC Studio for effective modeling and simulation of complex car glass antennas. The toolchain includes:
Advanced functions for glass antenna importing from native CAD formats and pre processing of initial data in order to obtain accurate computational model
Special computational method for glass antenna analysis (based on hybridization of MoM solution for 3D metallic and dielectric objects and a Green function approach for metallic stripes, printed on a curved multi-layered dielectric substrate)
Multiple methods for the treatment of antenna amplifiers and matching circuits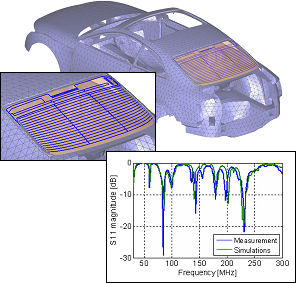 ---
New System Simulation Solutions
Electronic systems are often quite complex. For simulation of different parts of a system different numerical approaches are often necessary. The calculated sub-model behavior can be described by the coupling between the input and output ports. The system behavior information can be stored as a scattering parameters matrix. To get answers regarding the full system, the coupling matrices must be assembled and converted to a model that can be simulated.
EMC Studio 5.0 provides new system simulation solutions for modeling of complex systems based on measured or simulated scattering matrices.
The coupling behavior can be converted based on Vector Fitting Technique to a equivalent circuit model for full system simulation in frequency or time domain with non-linear components
New type of device – Touchstone Device – is implemented. It allows to introduce measured or calculated S parameters to system simulation model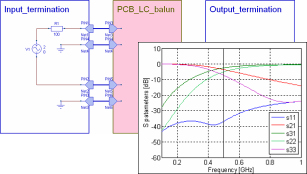 ---
Near Field Source Solution
For simulations of complex systems it is often difficult to model and simulate simultaneously different types of objects. For example, modeling of metallic part of car body can be efficiently done using Method of Moments; however simulations of complex devices may require circuit analysis and/or separate analysis of radiation from PCB or its housing.
EMC Studio 5.0 supports new type of external excitations for investigation of sub system radiation – Near Field Source. This equivalent source provides possibility to include simulated or measured radiation data from components into a corresponding simulation model in EMC Studio.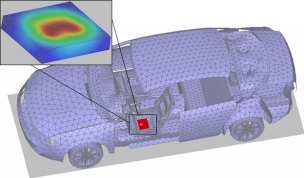 Low Frequency Smart/ Keyless Entry Antenna Simulation
Smart/ Keyless Entry Systems become more and more popular. System consists of several antennas transmitting signals. Several antennas are distributed in the car and one antenna is located in the driver 'remote key'. Parts of antennas are oriented to out-vehicle zone, and another part is oriented to the in-vehicle zone. Location detection antennas are normally realized as coil antenna wounded around a ferrite core.
Modeling and simulation of low frequency coil antennas with ferrite core can now be effectively done in EMC Studio 5.0.
For convenient analysis of zones with high and low radiated field levels EMC Studio 5.0 provides also new special post-processing options.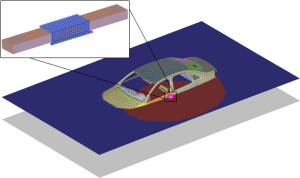 ---
Models and Devices Library
Models Library available in EMC Studio 5.0 allows to prepare parametrically defined basic components of a system to be simulated for further import to the complete simulation model. Included objects can be easily customized based on previously defined parameters.
Currently the following simulation ready models are provided in Models Library:
Antennas (Coil, Conical, Glass, Horn, Patch, Wire, Reflector)
Microstrip Structures
TEM Devices
Filters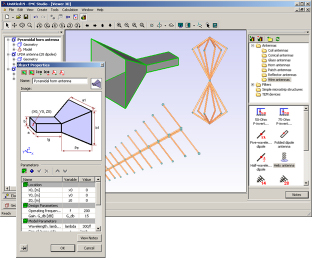 ---
New Ideology of EMC Studio Objects and Models
EMC Studio 5.0 provides new ideology of EMC objects and models. With new ideology EMC Studio project may be divided into several independent components (groups) called "objects" that may contain different parts of the whole simulation model.
Multi-objects ideology provides possibility to export the whole project or its part to external *.emm (EM Model) files and then import these files into other simulation projects.
---
Microstrip Patch Antenna Solution
Microstrip patch antennas are commonly used antenna types today; particularly in the frequency range of 1 to 6 GHz.
EMC Studio 5.0 provides an advanced toolset and computational techniques that enable construction and effective analysis of microstrip antennas. Special Green function approach can be successfully applied for simulation of metallic structures printed on dielectric substrates.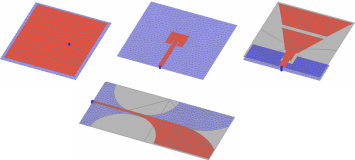 ---
New CAD Formats Support – STEP and Parasolid
EMC Studio 5.0 supports geometry import from STEP (*.stp, *.step) and Parasolid (*.x_t, *.x_b) file formats.
Note: CATIA, IGES, STEP and Parasolid converters require special license to be obtained.
---
CAD Pre Processing of PCB Structures
EMC Studio 5.0 provides advanced set of CAD tools for PCB data pre processing.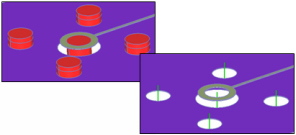 ---
Enriched CAD Functionality
EMC Studio 5.0 provides enriched CAD functionality that enables convenient and flexible ways for complex models construction and pre processing.
Projection of Surface onto another Surface
Advanced Strip Construction Based on Working Plane and Target Surface Normals
New Types of Operations for Complex Surfaces Construction – Sweeping, Revolving, Lofting, Chamfering and Blending
Multiple Transformations – Iterative Translation, Rotation and Scaling Operations with Given Multiplicity Value
New Type of Transformation Operations for Geometry Objects – Scale
Distribution of Geometry Objects to Multiple Points
Construction of Curves Based on Surface Edges
Advanced Selection Tools for Points, Curves, Surfaces and Faces
New Types of Splitting and Merging Methods for Curves
Non-Regularized and Regularized Union Operations
New Geometry Objects – 3-Point Arc, Elliptical and Rectangular Spiral, Disk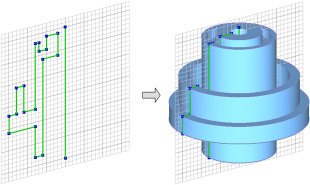 ---
Hybrid Cores New Features and Improvements
EMC Studio 5.0 installation package includes significantly improved and re-engineered Hybrid cores. The following new features and improvements are available in new version:
Support of Cables with Skin-Effect
Improved Statistical AnalysisВ – Stochasticity Option for Complex Bundles
Faster Calculation (improved Circuit Creator module)
Usage of MOR Techniques for MTL Modeling
Analytical Calculation of LC Coefficients
Reference Impedance Definition for S-Parameters Calculation
S-Parameters Calculation in Time Domain Tasks
Fast Fourier Transformation
---
Advanced Features in Near Field 3D Post Processing Tool
New options supported for Near Field 3D post processing tool enable more convenient analysis of simulation results:
Near Field Visualization Based on Reference Field Level
Handle Near Field Visualization on Different Near Field Areas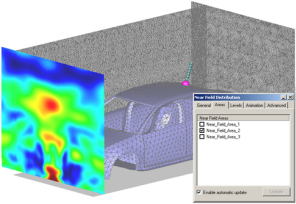 ---
ReMesh New Features and Improvements
New version of ReMesh 5.0.01 included in EMC Studio 5.0 installation package provides the following new features and improvements:
Merge Two Contours Functionality
New Advanced Remeshing Methods – Manual and Automatic
Additional Access to Model Visualization Settings
Reverse Show of Triangles Properties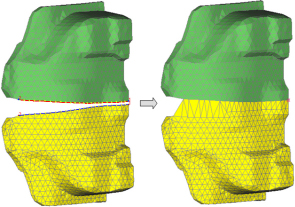 ---
More Features
New Search Functionality for Devices and Cables
New Nodes Creation Method Based on Vertices
New Schematic Elements – Diodes, Transistors, Operational Amplifiers, Filters
Unification of XTalk, Radiation and Susceptibility Analysis Types
Support of Geometry and Model Modes in Hybrid and Static3D Analysis Types
Support of Multi Excitation solution type for SHybrid analysis
Support of Adaptive Frequency Sampling (AFS) calculation for SHybrid analysis
Customizable Shortcuts
---
Enhancements
Improvements in low frequency analysis for dielectrics with magnetic properties
Redesigned Cables Library dialog for coaxial and multicables definition
Redesigned Shields Library dialog
Improvements in nets names generation for shielded multi cables
Redesigned Calculation Task dialog for Parallel TriD settings definition
Highlighting of hidden objects items in Geometry Mode Tree View
New Model Diagnostic Functions – identical Potential IDs for wires segments and meshes in Static3D analysis
Post Processing Improvements – redesigned Outputs dialog provides information about output file size, creation date and full path to the selected outputs
Post Processing Improvements – Explore Output(s) Folders button
Post Processing Improvements – support of source load subtraction for Impedance, Admittance, VSWR and S11 parameters
Post Processing Improvements – Smith chart support for Impedance, Admittance, S11 and S21 parameters
---