EMC Studio v5.1 available
Improved Glass Antenna Computations
Computation of automotive glass antenna performance (far field characteristics) requires consideration of real soil properties. Also in some cases antenna validation tests are performed in anechoic chambers having specific properties of the floor (ferrite tiling).EMC Studio v5.1 provides possibility to consider Finite Dielectric Substrate (modeled using Green Function approach) together with infinite ground plane with PEC or realistic material properties.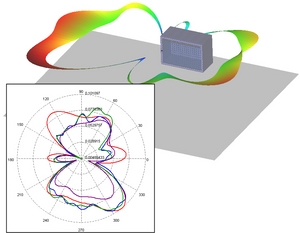 ---
Improved GUI for Dielectric Substrate Definition
The graphical user interface of EMC Studio v5.1 provides now special functions for definition of infinite and finite dielectric substrates:
Easy control of dielectric substrate orientation relative to base surface both in Model and Mesh modes
Possibility to switch direction arrow on/off and vary arrow length
Clear view of dielectric substrate parameters from View Structure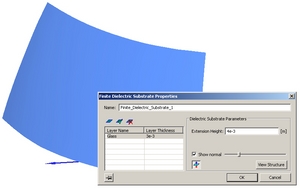 ---
Parallel Computations for MoM/MTL Hybrid Analysis
Hybrid MoM/MTL analysis allows user to perform simulations of complicated cable bundles. Hybrid solution for such types of problems is much more flexible than full wave MoM. Complex devices containing non-linear elements, as well as different cable types easily can be considered. Parallelization of calculation is now a very useful feature to get results for complex system in shorter time. EMC Studio v5.1 provides full chain of parallel computational cores for Hybrid Analysis type. All important solver settings can be easily controlled from the modified Calculation Task dialog.
---
Multi Layer Shield Support in Hybrid Analysis
Complex cable shields with more than one layer were till today very difficult to calculate. EMC Studio v5.1 provides now specific computational tools and a comfortable GUI for the investigation of multi layer shielded cables in Hybrid Analysis. The following functions are now available:
Intuitive definition of multi-layered shield
Visualization of layered structure and parameters analysis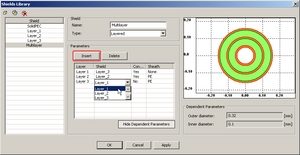 ---
Extended Support of Touchstone Devices
Scattering matrices can be used to describe the behavior of a device model. The matrices can be determined by measurements or simulations. EMC Studio v5.1 supports now Touchstone data defined devices also in Hybrid and System Simulation Analysis. The following enhancements are available:
Possibility to include Touchstone data to MoM/MTL Hybrid Analysis
Improved definition of output pin names for Touchstone devices
Easy access to pin properties directly from Schematic View
Diagnostic of incorrect pin connections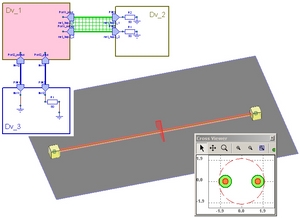 ---
LF Electric Field Solution for Low Frequency Problems
Static3D Analysis is now substituted with LF Electric Field Analysis, containing improved computational core for simulations of low frequency electrical field coupling problems. Analysis includes two modes:
Electrostatic: computation of Capacitance matrix for defined objects and Inductance matrix for the non-branched wire structures
Equivalent circuit: generation of equivalent electrical circuit with defined output points for the branched cable-antenna systems in 3D environment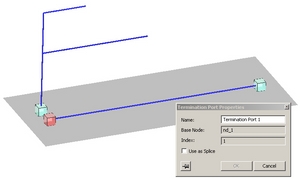 ---
Optimized XTalk calculations for uniform and lossless cable bundles
EMC Studio v5.1 provides substantially optimized calculation of XTalk for the case of bundles with uniform cross-section containing only lossless cables. For simulations Branin technique is used.
---