---
EMCoS announces release of new EMC Studio v8.2. In this new version we have realized powerful tools for new solutions as well as many improvements in general program usability.
EMC Studio v8.2 introduces flexible and highly effective toolkit for fast and robust calculation of the Human Exposure at low frequencies from 0+ to 30 MHz (for example, wireless power transfer or high voltage systems in EV/HV vehicles).
New Multichannel Link Path Analysis (LPA) tool in extended EMC Studio System Simulation Mode allows to investigate high-speed communication systems and link paths involving many different components, like traces, transmission lines, via transitions, connectors and other discontinuities.
---
Low Frequency Human Exposure Toolkit:
MoM solution of low frequency magnetic fields interaction with thin 3D sheets characterized by combined resistive and magnetic properties simultaneously with complex 3D dielectric objects
Special calculation approaches for homogeneous and non-homogeneous body models
Import and visualization of human voxel-based models
Support of voxel model interactive transformations
Manipulation with voxel-based virtual skeleton (move and rotate skeleton bones considering joints)
Automatic adjustment of voxel model cubes to skeleton pose
Flexible post processing tools for human exposure analysis for both homogeneous and non-homogeneous models. Visualization of 3D distribution and 2D slices for field, current density and SAR values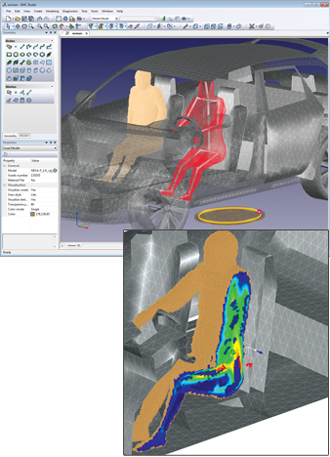 ---
Multichannel Link Path Analysis (LPA):
Link path components come from measurements or suppliers as S/Y/Z-parameters
Passivity checking of S-parameters blocks
Cascading and de-embedding
Different types of voltage sources and frequency-depended impedances
Various equalization options (CTLE, FFE, DFE) for transmitters and receivers
Cables and interconnections can be defined as lossless/lossy transmission lines or by 2D cross-section (multicore microstrip and stripline, coaxial, twin-ax and quad cable)
Built-in and easily configurable T&Pi network blocks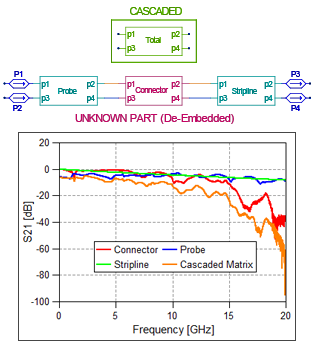 ---
Other Features:
Cylindrical Scan results 3D post processing
Redesigned Eye Pattern 2D post processing tool
Extended Far Field 2D post processing
Double layered 3D currents visualization
Envelop for signal spectrum
Components library with simulation ready models
Project modes (Mixed, Geometry, Model, Task)