---
Major Highlights
Hybridization of 3D PEEC and MTL Solutions for Cables Simulation
New EMCoS PCBNgn Tool and New Solution for Complex PCB Simulation
New PCB Object with Underlying PCB Data Linked to EMCoS PCBNgn Project
New FAS (Fast Approximate Solution) in 3D PEEC and Hybrid MTL/3D PEEC Solvers
PCB Data Reading New Features and Improvements
Support of JT and NX Data Readers in EMCoS Studio and EMCoS CAD Engine
EMCoS CAD Engine New Features and Improvements
New Geometry and Model Handling Operations
New Features and Improvements in System Simulation
New EMCoS TIC (Transfer Impedance Calculator)
New Features in ReMesh for Specific EM Applications
EMCoS SimDAT New Features and Improvements
New Features and Improvements in EMCoS Solvers
---
Hybridization of 3D PEEC and MTL Solutions for Bidirectional Cables Simulation in 3D Environment
New Hybrid MTL/3D PEEC approach allows to take into account bidirectional cable harness interaction with 3D environment.
In this solution, cable bundles are modeled using 2D LCTL approach, while 3D interaction of cables with all other objects is modeled using 3D PEEC approach. As a result, combined equivalent circuit of the model is constructed, which can be calculated using different SPICE-like solvers. User can calculate voltages, currents or S-matrix parameters using equivalent circuit or even calculate currents and charges 3D distribution on the model and radiated electric and magnetic fields.
The connection between cables and 3D environment is established with extended connectors with two or several terminations based on cable termination nodes and 3D PEEC pins.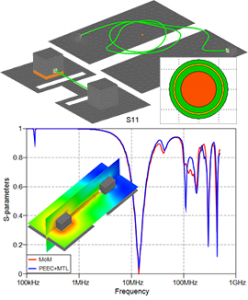 ---
New EMCoS PCBNgn Tool and New Solution for Complex PCB Simulation
New tool for complex PCB models handling and automatic generation of computational model for 3D PEEC simulations.
Fast import and visualization of complex PCB models
Import of Layers Stackup with physical properties assignment
Preview by PCB layers and nets/components selection with enable/disable and export configuration options
List of all PCB nets and components with filtering options
PCB components handling based on package/parts for model generation, automatic and manual assignment of ports
Quad/triangular mesh generation with adaptive and uniform methods
Automatic generation of 3D PEEC input file and support mesh model generation in binary file format (BGA)
New PCB Object in EMCoS Studio environment with underlying PCB data linked to EMCoS PCBNgn project
New FAS (Fast Approximate Solution) in 3D PEEC and Hybrid MTL/3D PEEC solvers for handling models with millions of triangles/wires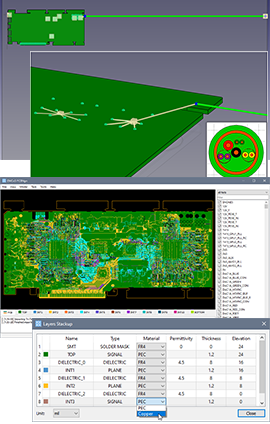 ---
PCB Data Reading New Features and Improvements
Improved Stackup Editor with dynamic preview of PCB layers (proportional drawing based on actual layers thickness)
Net selection interface in Stackup Editor for complex PCB models processing
Import pre-defined nets configuration file
Virtual connections generation for PCB vias to speed-up 3D PEEC simulations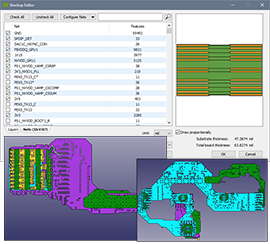 ---
EMCoS CAD Engine New Features and Improvements
Support of JT and NX data readers
Scripting language for automated geometry construction
Possibility to split one project into several sub-projects
Selection of bodies/faces/edges by colors
Redesigned Cut Plane with possibility to handle planes with arrow keys, viewer handler or slider
Copy/paste geometry between EMCoS CAD Engine and EMCoS Studio project
Support of export bodies with multi-level grouping to SAT/SAB file
Improved usability and program performance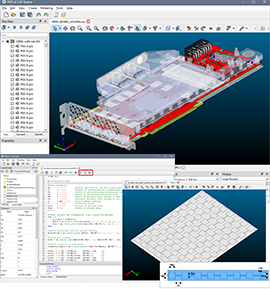 ---
New Geometry and Model Handling Operations
Support of Current Clamps for extension of virtual measurement possibilities
Support of Edge Loads, Edge Sources, and Edge Ports
Automatic detection and healing of neighbour pins in 3D PEEC simulation
Improved tools for midline generation from tubes
Support of JT and NX data readers
---
New Features and Improvements in System Simulation

Equivalent Circuit Configurator allows to reconfigure equivalent circuit generated by 3D PEEC solver for fast consideration and analysis of impact PCB layout details on system simulation results and device performance.
Possibility to enable/disable and increase/decrease mutual LC and C coupling coefficients for required parts of PCB layout
Possibility to increase/decrease value of self L and R coefficients for required parts of PCB layout
Pins configuration is added in modified subcircuit
General Improvements in System Diagram & Schematic
Nets and Probes Panel support
Lock/unlock operations on devices in System Diagram
Extended Coupled Inductor element with up to 6 L-elements
Extended Search Elements functionality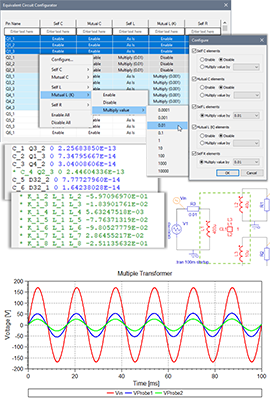 ---
New EMCoS TIC (Transfer Impedance Calculator)

EMCoS TIC (Transfer Impedance Calculator) is a specialized tool that allows to design and modify shield structure interactively (Solid, Braided, Foil, Layered) with fast recalculation of shield characteristics and shield transfer impedance.
Interactive design of different shield types (Solid, Braided, Foil, Layered)
Convenient definition of shield parameters (Copper, Aluminum, Custom)
Built-in and custom materials parameters definition (Inner Shield Size, Outer Shield Size, Number of Carriers, Number of Filaments in Carrier, Weave Angle)
Fast recalculation of braided shield characteristics (Optical Coverage, Fill Factor, etc.) based on geometrical parameters
Analytical models for transfer impedance calculation (Vance, Demoulin, Tyni, Kley)
Results visualization in graphical and table views wit direct export of calculated transfer impedance data to external *.dat and *.csv files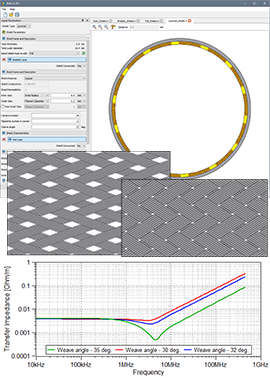 ---
New Features in ReMesh for Specific EM Applications
Automatic Bordure Mesh of Free Edges function for proximity effects consideration in PEEC 3D solver
Automatic Conversion of Rods to Weld Cylinders function for magnetic leakage simulation with LFMF solver
New Fill-in Selected Gap function
New option Hide Elements Crossed by Cut Plane
Import of geometry from binary file formats (BGA)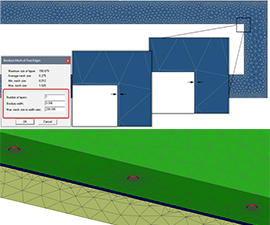 ---
EMCoS SimDAT New Features and Improvements
Virtual EMI Receiver (PK, QPK, AVG, RMS detectors) in FFTWerk for time signals processing
New Reference Data Library with custom limits and built-in templates for CISPR25 limits
Math expressions for curves creation and modification
Auto unit for samples in 2D results preview
Redesigned Cut Plane with possibility to handle planes with arrow keys, viewer handler or slider
Arrows representation mode for 3D wire current distribution
Near field points transparency for 3D near field distribution
Support of NaN value coloring in 3D distribution
Input data loading with binary geometry files (BGA)
Improved antenna efficiency calculation method
Import/export loaded output files list in Outputs dialog
Added Recent Plots list in File Menu
Extension of output reading functions in EMScript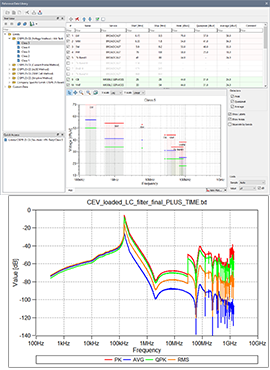 ---
New Features and Improvements in EMCoS Solvers
Support of Fast Direct Solver (FDS) in combination with Matrix Partitioning
Special implementation of Mitzner surface impedance boundary conditions (SIBC) for nested regions
Support of null-field objects with bulk dielectrics
Support of dipoles and plane waves with elliptical polarization
Support of binary geometry files (BGA) in 3D PEEC and Hybrid MTL/3D PEEC solvers
Improvements and optimizations in all calculation cores